Industry introduction:

The fountain as a dynamic art scene has a long history in China. In recent years, with the development of science & technology, the implementation of the reform & opening up, and the rapid development of city construction, the fountain art also got unprecedented development basing on modern science and technology. Many large, medium-sized cities in China and even some small towns have built many fountain projects. Especially in hotels and scenic spot, fountain water features art has become an indispensable content. They are not only can beautify environment, ornament scenery and foil atmosphere to attract customers, but also can regulate climate or have some other functions. So they are popular, and always make people linger.
Figure 1 Music Fountain of Square Hohhot
Device description:
The music fountain device transforms the received music rhythm and intensity into control signals, and then transmits them to the industrial control computer. The industrial computer controls each frequency converter through the bus.
Solution 1:
​
1) Scheme Description
​
The upper computer adopts DM512 music fountain protocol and then it can connected to dozens of inverters. The inverter adopts MODBUS protocol. In order to improve the response speed, a group of 4 inverters as a group to share one DM512 and one MODBUS conversion board. The MODBUS uses only one instruction to control starting, stopping and the frequency input, and together with function of preset multiple registers to control inverters' frequency to change the motors' rotation speed. Then the water pump pressure changes. The motor speed is changed by the music rhythm, tone, and intensity changes. Then the pump pressure changed by motor, which make the water spray height different to realize the magnificent art effect.
​
2) Parameter setting
​
| | | |
| --- | --- | --- |
| Parameter | Setting | Instruction |
| F00.00 | 2 | Advanced Menu |
| F01.15 | 1 | Terminal operation |
| F01.17 | 0.2 | Acceleration time |
| F01.18 | 0.2 | Deceleration time |
| F15.00 | Parameter group | Set motor parameters |
| F15.00 | ​ | ​ |
| F15.00 | ​ | ​ |
| F15.00 | ​ | ​ |
| F15.00 | ​ | ​ |
3) Field equipment photos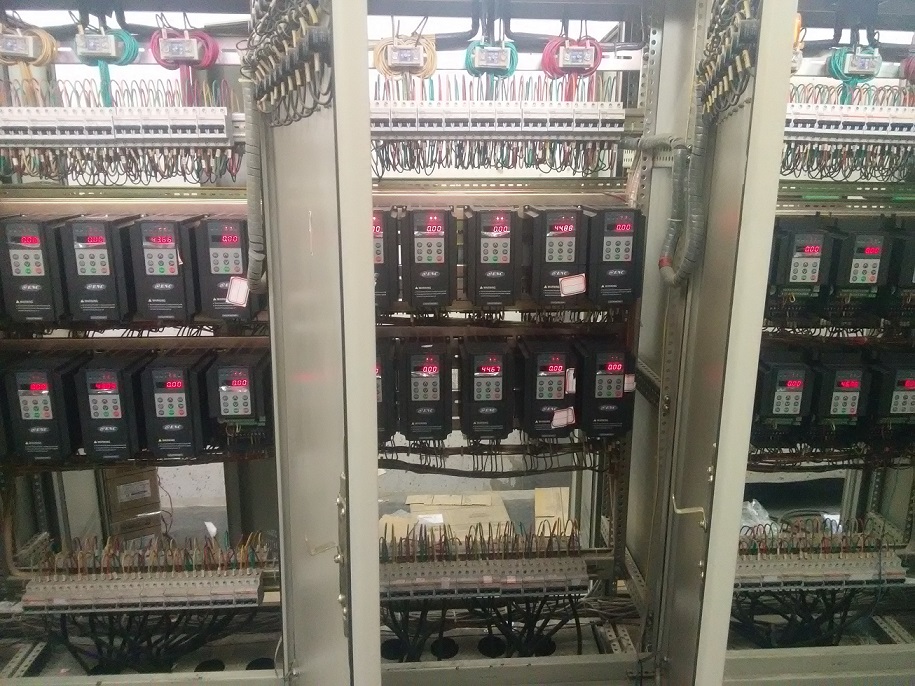 EN600 music fountain application advantages
​
Ø Speed sensorless magnetic flux vector control, high speed accuracy, fast response speed
​
Ø Open-phase protection, under-voltage protection, overload protection, and various intelligent protection
​
Ø New speed tracking function, 0 - 80Hz speed tracking only takes 0.5 seconds, SVC torque control is more flexible
​
Ø Superior magnetic flux weakening property.